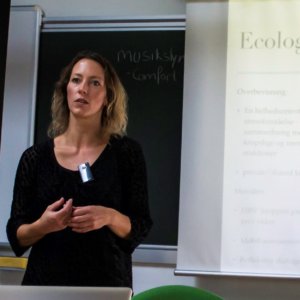 On September 1st 2017, Katja Lund is starting a postdoc position, Outcome Measures in Adult Hearing Rehabilitation, at the Department of Electronic Systems at Aalborg University. Katja Lund has a Master and a Ph.D. degree in Interactive Digital Media from the Department of Communication and Psychology at Aalborg University. Her research focus has moved from game-based sign language learning to the field of human-sensing, where she developed a self-monitoring method, ecological momentary storytelling, for tracking occupational stress among persons with hearing loss.
Since 2008 Katja Lund has been working at Castberggård Job and Development Centre in the heart of Jutland, where she has been involved in several projects concerning persons with hearing loss and the labor market.
Katja Lund will contribute to the work area on aided performance in real life, where she will be focused on developing new outcome measures to effectively measure the benefit for the individual hearing aid user.